Lowest-price deals from "YINGJIE STORE" through Price Z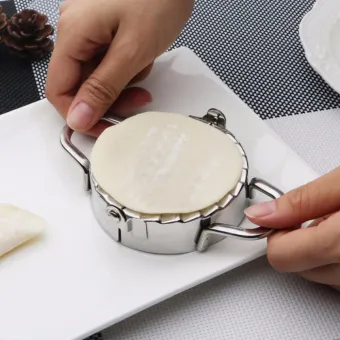 Our reflects strength, quality and functionality demanded by chefs around the world. Whether its beauty in the high quality mirror-polishing 18/8 stainless steel or extra large diameter 3 inch, special sand blasting on the back side.
Compromise with anything less than perfection when it comes to your kitchen gadgets. This dumpling maker has a unique and elegant high quality mirror-polishing. Constructed of high quality 18/8 stainless steel which is heavy duty and last a long life without any corrosion, it won′t rust, bend, break or weaken.
Perfect handles to allow even clumsy fingers to hold tight, the BestUtensils ravioli mould belongs to every person's kitchen regardless of culinary skill. The edge outside is sharp enough to cut out the needed volume of dough easily. Put the dough on the upper side, slightly press down. Then you can add the filling and close the ravioli mould. For safe closing you can brush the rim with egg yolk.
This Ravioli mould makes the kitchen more efficient and more enjoyable. Finish a perfect packet, Dumpling Pie, Ravioli and pot sticker with just 2 moves. You don't want silicone or BPA-infested plastic to touch your food. We know that, so don't worry. All of our ravioli moulds are crafted from durable, one-piece dishwasher-safe 18/8 food grade stainless steel.
more
Watch reviews, introductions of Lowest-price deals from YINGJIE STORE on Youtube