Up to 69% OFF when purchase products from "GEITHAINER"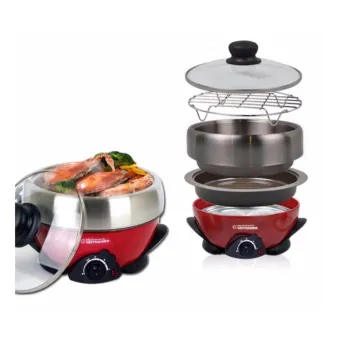 Korean Best Selling Product. Shipment from Korea.
Rated Voltage: 220 V, 60 HZ. Electric Power Consumption: 500W, Capacity: 1 L, Size: 20 x 17 cm
Component: Main Body, Grill, Inner Pot, Steaming Holder, Glass Cover, Cable.
Material: Stainless Steel, Fluororesin Coating, Glass
Stainless and Non Stick Pot and Grill
High Thermal Conductivity: Heating pot and grill evenly, The Hot Plate is able to use separately
3 in 1 Multi Cooking: Possible to cook various food. (Stew, Soup, Grilled Meat, Steamed Seefood, Steamed Egg, etc - Please check the detail image on the product description)
Easy to Use: Please, check ′Tips for Use′ on the product description, Easy to Wash: Each Component is Separable.
more
Watch reviews, introductions of Up to 69% OFF when purchase products from GEITHAINER on Youtube